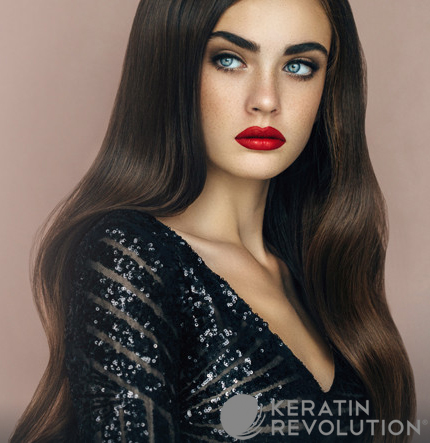 As a hair salon based in Basingstoke, Hampshire we know just how much long, shiny, straight and manageable hair is every girl's dream. But, what people often don't know is that daily exposure to pollution, use of hair products that contain harmful chemicals and even heat treatments such as blow drying, have a detrimental effect on your hair, ruining your chances of achieving that perfect 'do' you've always dreamed of.
When hair becomes damaged it loses its natural keratin and leaves you with a depleted, coarse and damaged result. For decades oils and conditioning treatments have been used as an attempt to treat damaged hair for a more frizz-free luscious result, but in more recent years the beauty and glamour world has been introduced to a new treatment – Keratin.
 What is a Keratin treatment?
 Keratin is a chemical-based hair treatment used to inject some lost elasticity and health back into your hair. It gets to work tackling all of your unwanted frizz ensuring your daily routine to achieving straighter hair is a less tiresome task. The treatment itself lasts for 3-4 months, so although not permanent is definitely the best alternative for straighter, more frizz free, healthier hair.
 How does it work?
 A hot flat iron is used to 'seal' the process, binding keratin to the hair. The heat from the iron (or straighteners to you and me) starts the process and begins to defrizz your hair. This whole process takes around 90 minutes or so, and of course a little longer if you've got Rapunzel hair! Once you've been through the sealing process and the keratin is locked in, there's no real downtime, but we recommend leaving your hair without washing it for a couple of days, however this is not essential.
 Will keratin straightening deplete my natural curls for good?
No! no treatment can get rid of those curls completely, especially if you have bountiful curls. But, if you want to have soft silky hair even after the keratin treatment we recommend using Lisse Design keratin shampoo regularly to help keep your hair tangle-free, shiny and soft.
If you want to find out more about keratin treatments right here in our Basingstoke salon, simply call us on 01256 363500 or visit us at 2 Rucstall Centre, Holbein Close, Black Dam, Basingstoke –  Rg21 3QN. Alternative view our full range of services here.